VILLAGE IDIOT'S BOOKS
Why Village Idiot's Books? In 2006, my son said that only an idiot would start an online book store when it was obvious to him the internet was going to replace printed books. HUH! I love the look, fell, and smell of a well-made book. They are a pleasure to read. I am an educated scholar now buying book hoards from teachers/scholars and collectors at UNH in Durham. These scholars tend to have had a long romance with their books, and generally love to see them placed into new hands. This has allowed me to offer some rarer and single sourced printings that can't be easily located elsewhere.
E-mail VILLAGE IDIOT'S BOOKS
Overall Seller Rating:
Alibris seller since May 2010
---
Search for books from VILLAGE IDIOT'S BOOKS Advanced Search
Search 12,118 books from this seller
Spotlight book from VILLAGE IDIOT'S BOOKS Fine. 0819154776 REMARKABLE CONDITION FOR A VERY RARE COPY. LOOKS BRAND NEW AS SHOWN IN PHOTOS. SEE PHOTOS SO YOU KNOW WHAT THIS IS. 07 24 2010 MOVED TO HIST-1012 8/8/2011.
Featured books from VILLAGE IDIOT'S BOOKS by
Hedley, John Hollister
$39.77
Fine. 0934742790 SMALL PAPERBACK COPY SINGLE OWNER WITH NO NAMES OR MARKS SEEN. HIGH QUALITY PRODUCT WITH SMALL DISTRIBUTION AND PRINTING TOTAL. STUDY IS IN EXCELLENT CONDITION AS SHOWN. 33 PAGES. ***BONUS OF RELATED ARTICLES INCLUDED AS SHOWN*** 07 19 2010 OH 14.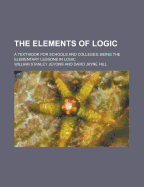 by
Jevons, William Stanley
$29.99
Very Good. B000873PES REMARKABLE COPY IN EXCELLENT CONDITION FROM 1886 BY MACMILLAN AND CO AS SHOWN. VERY GOOD COVER AND EXCELLENT BINDING. ONLY FOXING SEEN IS ON END PIECES. PAGES CLEAN AND APPEAR UNUSED. THIS LOOKS LIKE A STORED COPY IN ABOUT THE BEST CONDITION POSSIBLE FOR 1886. NO NAMES OR MARKS IN TEXT. PLEASE SEE PHOTOS. MORE PHOTOS UPON REQUEST. NICE SECTION ON BOOLE'S SYSTEM OF LOGIC. THIS ONE IS A CLASSIC. ANYONE STUDYING COMPUTER LOGIC CIRCUITRY KNOWS THIS IS A ROOT WORK IN OUR WORLD ...
---
Binding: Hardcover Publisher: National Retail Dry Goods Association

Description: Very Good. B003DGU8O6 We ship faster than lightning on a golf course? MAYBE, BUT AN INFORMED BUYER IS OUR BEST CUSTOMER. YOU CAN ASK US ANYTHING. Packed Carefully and Shipped Promptly by Highly Rated Seller. Check our Feedback. 03 21 2010 MOVED TO HIST-10102 8/8/2011. Read More

Maverick Sea Fare a Caribbean Cook Book

Binding: Hardcover Publisher: Maine Coast Printer

Description: Fine. B000X0MX98 ******SIGNED BY THE AUTHOR ON BOTTOM FRONT FLY AS SHOWN. ****** EXCELLENT SECOND PRINTING DATED 1978 FROM MAINE COAST PRINTERS. APPEARS NEW, UNUSED AND IN BEAUTIFUL CONDITION AS SHOWN. A VERY RARE BIRD. SEE PHOTOS FOR QUALITY PRINTING. MORE PHOTOS UPON REQUEST. 08 08 2010 MOVED TO 09 05 2011 CB 15. Read More

Binding: Hardcover Publisher: Publisher

Description: Good. B0035ZRAW8 PAGES OF THIS BOOK ARE IN GOOD SHAPE INDIVIDUALLY AND ARE FRESH LOOKING, BUT THE SPINE IS GONE AND NEEDS REBINDING. SOME PAGES IN THE FRONT ARE LOOSE, BUT BINDING IS SECURE FOR MOST. SPINE NEEDS REPLACING (CAN BE TAPED). FRONT AND BACK BOARDS ARE ACTUALLY QUITE GOOD. PLEASE SEE PHOTOS FOR DETAILS. OWNED BY FAMILY AND NEVER OUT OF HOUSE. PRINTED CIRCA 1920, AND IS UNDATED. 01 26 2010 SHELF GG MOVED 09 05 2011 TO TR. Read More

Great Speeches By Native Americans (Dover Thrift Editions)

Binding: PAPERBACK Publisher: Dover Publications Date published: 2000 ISBN-13: 9780486411224 ISBN: 0486411222

Description: Fine. 0486411222 EXCELLENT FLAWLESS COPY. BRILLIANT COVER WITH MINIMAL FLAWS, NO RIPS OR FOLDS, AND AND DEEP COLORS. SMOOTH SPINE. NO NAMES OR MARKS SEEN. STIFF TO OPEN. CLEAN BOOK EDGES. WHY SETTLE FOR LESS? 08 07 2010 OQ 9. Read More

A Story of Things Actual and Possible

Binding: Hardcover Publisher: Rumford Press, Concord, NH for Boscawen, NH

Description: Very Good. B0011TZCR0 EXCELLENT EXAMPLE OF SIMPLE RELIGIOUS DEVOTION IN 19TH CENTURY AMERICA. Small brown cloth cover with gold printing in excellent condition. Printed on glossy paper. Has about two dozen illustrations in it of the people and the places in this Christian rural life in NH. It is a study in prayer and devotion, of meeting the Lord, and having prayers answered in a documentary fashion. This book is a statement of Christian faith in late Nineteenth Century rural Boscawen, NH. The ... Read More

Publisher: J. Wiley and sons

Description: Good. B00087I5FW COPY WAS PURCHASED NEW BY ANCESTOR WHILE AT ANNAPOLIS ACADEMY IN 1890S. SIGNED BY D. B. NINDE, FOUNDER OF LINCOLN NATIONAL LIFE INSURANCE COMPANY (LNC). PURCHASED NEW AND NEVER OUT OF HOUSE. ORIGINAL TEXT DATED 1889 AS SHOWN. NO OTHER COPIES FOUND FOR SALE IN WORLD SEARCH BY BOOKFINDER. COVER HAS STAINING ISSUES BUT IS ACCEPTABLE. BINDING IS VERY GOOD. PAGE AND INTERIOR REMARKABLY CLEAN AND FREE OF FOXING OR MARKS. PLEASE SEE PHOTOS. MORE ON REQUEST. CANDIDATE FOR COMPLETE ... Read More

Salt of Youth; a Tale of Spanish Yesterdays

Publisher: Hutchinson & Co.

Description: Very Good. B003SKCDCM VERY CLEAN COPY AS SHOWN. AUTHOR SALUTATION TO CLOSE FRIEND AND ADDRESS NOTE ON FRONT FLY AS SHOWN. AUTHOR ANALYSIS OF NOVEL AND PRINTING CIRCUMSTANCE IS VERY RARE AND A NICE COMBINATION FOR A TRUE COLLECTIBLE. SEE PHOTOS FOR THIS BRITISH FIRST PRINTING. THIS IS ABOUT A GOOD IN DOCUMENTATION AS IT GETS FOR A PRINTING HISTORY. THE BOOK WAS ALSO A UN SELECTION. 08 07 2010 OQ 19. Read More

Língua De Camões Do Homo Sapiens Á Língua Portuguesa, a

Binding: PAPERBACK Publisher: Ibrasa ISBN-13: 9788534800136 ISBN: 8534800138

Description: Fine. 8534800138 ***FULL PAGE SALUTATION BY THE AUTHOR AND SIGNED IN PORTUGAL AND DATED 8/8/95 TO PROFESSOR AT UNH**** LIKE NEW CONDITION, CLEAN COPY WITH SHINEY COVER AND CLEAN, WHITE PAGES. NO NAMES OR MARKS. TEXT IS IN PORTUGUESE. SOFTCOVER WITH HEAVY CARDBOARD COVER AND LARGE END THAT FOLD INSIDE. NO SUN DAMAGE, BUT MINOR STORAGE FLAWS. A NICE FIND AND A VERY RARE COPY SIGNED BY AUTHOR. 08 02 2010 OM 14 DL. Read More

Binding: Hardcover Publisher: Harper & Brothers

Description: Very Good. B000H98VJQ From our own family library and copyright 1918, boards with good color and slight soiling although age-tanned, pages also tanned, but complete and unmarked, complete with 3 one-sided records in sleeves that look playable, whimsical unfaded color drawings throughout. A very nice book in wonderful condition for it's age. 021710 LZ 025 moved to HIST-1061 2/28/2012. Read More
---