Waltham Abbey, ESSEX, UNITED KINGDOM

Show Item Details

Edition:
2006, Egypt Exploration Society
Hardcover, Good

Details:
ISBN: 0856981656
ISBN-13: 9780856981654
Pages: 227
Publisher: Egypt Exploration Society
Published: 2006
Language: English
Alibris ID: 15880826379

Shipping Options:
Standard Shipping: $3.99

Choose your shipping method in Checkout. Costs may vary based on destination.

Seller's Description:
Good. Used-Good. Ships from UK in 48 hours or less (usually same day). Your purchase helps support Sri Lankan Children's Charity 'The Rainbow Centre. ' Ex-library, but has been well cared for. 100% money back guarantee. We are a world class secondhand bookstore based in Hertfordshire, United Kingdom and specialize in high quality textbooks across an enormous variety of subjects. We aim to provide a vast range of textbooks, rare and collectible books at a great price. Our donations to The Rainbow Centre have helped provide an education and a safe haven to hundreds of children who live in appalling conditions. We provide a 100% money back guarantee and are dedicated to providing our customers with the highest standards of service in the bookselling industry.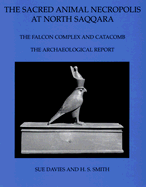 2006, Egypt Exploration Society, London, England
ISBN-13: 9780856981654
Hardcover