Goring-By-Sea, WEST SUSSEX, UNITED KINGDOM

Show Item Details

Edition:
2010, ReadHowYouWant
Paperback, Very Good

Details:
ISBN: 1458720152
ISBN-13: 9781458720153
Edition: [Large Print]
Publisher: ReadHowYouWant
Published: 2010
Alibris ID: 16345555815

Shipping Options:
Standard Shipping: $3.99

Choose your shipping method in Checkout. Costs may vary based on destination.

Seller's Description:
Very Good. Trade paperback (US). 342 p. Black & white illustrations. This fascinating book by psychologist and medical anthropologist Alberto Villoldo, Ph.D., explains the practices for healing outside of ordinary time and space. It shows how to enter the timeless now to heal events that occurred in the past, and to correct the course of destiny. Dr. Villoldo discusses ways in which you can heal yourself and your...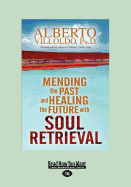 2010, ReadHowYouWant, Richmond, BC
ISBN-13: 9781458720153
[Large Print]
Trade paperback