John Steinbeck
Nacido en Salinas, California, en 1902, John Steinbeck creci´┐Ż en un f´┐Żrtil valle agr´┐Żcola a unas veinticinco millas de la Costa del Pac´┐Żfico --y tanto el valle como la costa sirvieron como escenarios para algo de lo mejor de su obra de ficci´┐Żn. En 1919 asisti´┐Ż a la Universidad de Stanford, donde de manera intermitente se inscribi´┐Ż en cursos de literatura y escritura, hasta que finalmente se fue en 1925 sin llegar a graduarse. Durante los siguientes cinco a´┐Żos se gan´┐Ż la vida...See more
Nacido en Salinas, California, en 1902, John Steinbeck creci´┐Ż en un f´┐Żrtil valle agr´┐Żcola a unas veinticinco millas de la Costa del Pac´┐Żfico --y tanto el valle como la costa sirvieron como escenarios para algo de lo mejor de su obra de ficci´┐Żn. En 1919 asisti´┐Ż a la Universidad de Stanford, donde de manera intermitente se inscribi´┐Ż en cursos de literatura y escritura, hasta que finalmente se fue en 1925 sin llegar a graduarse. Durante los siguientes cinco a´┐Żos se gan´┐Ż la vida como empleado y periodista en la ciudad de Nueva York y m´┐Żs tarde como vigilante en una propiedad de Lake Tahoe, todo el tiempo trabajando en su primera novela, La taza de oro (1929). Luego de casarse y mudarse a Pacific Grove, public´┐Ż en California dos obras de ficci´┐Żn, Las praderas del cielo (1932) y A un dios desconocido (1933), al tiempo que trabajaba en los cuentos que m´┐Żs adelante se reunieron en The Long Valley (1938). La popularidad y la seguridad econ´┐Żmica llegaron con Tortilla Flat (1935), historias sobre paisanos de Monterrey. Experimentador incesante a lo largo de su carrera, Steinbeck no dej´┐Ż de cambiar de rumbo. A finales de la d´┐Żcada de 1930 public´┐Ż tres poderosas novelas centradas en la clase obrera de California: En lucha incierta (1936), De ratones y hombres (1937) y la que es considerada por muchos su mejor obra, Las uvas de la ira (1939). A principios de la d´┐Żcada de 1940 se volvi´┐Ż realizador de cine con El pueblo olvidado (1941) y un serio estudioso de la biolog´┐Ża marina con Mar de Cort´┐Żs. Escribi´┐Ż cr´┐Żnica de guerra, Bombas fuera (1942) y el pol´┐Żmico drama-nouvelle La luna se ha puesto (1942). Los arrabales de Cannery (1945), El autob´┐Żs perdido (1947), La perla (1947), Diario de Rusia (1948), otro drama experimental, Burning Bright (1950) y Por el Mar de Cort´┐Żs (1951) precedieron la publicaci´┐Żn de su monumental Al este del Ed´┐Żn (1952), una ambiciosa saga del Salinas Valley y la historia de su propia familia. Las ´┐Żltimas d´┐Żcadas de su vida transcurrieron en la ciudad de Nueva York y en Sag Harbor con su tercera esposa, con quien viaj´┐Ż a muchos lugares. Sus ´┐Żltimos libros incluyen Dulce jueves (1954), El breve reinado de Pipino IV (1957), Hubo una vez una guerra (1958), The Winter of Our Discontent (1961), Viajes con Charley (1962), America and Americans (1966) y el p´┐Żstumamente publicado Diario de una novela: las cartas de Al este del Ed´┐Żn (1969), ´┐ŻViva Zapata! (1975), Los hechos del Rey Arturo y sus nobles caballeros (1976) y Working Days: The Journals of The Grapes of Wrath (1989). Muri´┐Ż en 1968, habiendo ganado el Premio Nobel de Literatura en 1962. See less
Personality Profile For John Steinbeck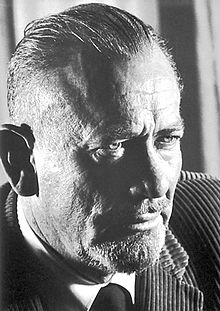 The following is a personality profile of John Steinbeck based on his work.
John Steinbeck is boisterous and expressive.
He is intermittent, he has a hard time sticking with difficult tasks for a long period of time. He is empathetic as well: he feels what others feel and is compassionate towards them. But, John Steinbeck is also laid-back: he appreciates a relaxed pace in life.
More than most people, his choices are driven by a desire for organization.
He is also relatively unconcerned with tradition: he cares more about making his own path than following what others have done. Considers helping others to guide a large part of what he does: he thinks it is important to take care of the people around him.
---
Writing style analyzed by IBM Watson
---