Jane Roberts
Jane Roberts (May 8, 1929 - September 5, 1984) grew up in Saratoga Springs, New York where she attended Skidmore College. Jane was a prolific writer in a variety of genres including poetry, short stories, children's literature, fiction, and non-fiction. Her international bestselling non-fiction books include Seth Speaks, The Nature of Personal Reality, The Nature of the Psyche , and The Individual and the Nature of Mass Events . Her enormously popular novels include The Education of Oversoul...See more
Jane Roberts (May 8, 1929 - September 5, 1984) grew up in Saratoga Springs, New York where she attended Skidmore College. Jane was a prolific writer in a variety of genres including poetry, short stories, children's literature, fiction, and non-fiction. Her international bestselling non-fiction books include Seth Speaks, The Nature of Personal Reality, The Nature of the Psyche , and The Individual and the Nature of Mass Events . Her enormously popular novels include The Education of Oversoul Seven, The Further Education of Oversoul Seven , and Oversoul Seven and the Museum of Time (now published as The Oversoul Seven Trilogy ). Yale University Library maintains a collection of Jane's writings, journals, poetry, and audio and video recordings that were donated after her death by her husband, Robert F. Butts. See less
Personality Profile For Jane Roberts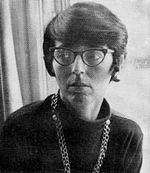 The following is a personality profile of Jane Roberts based on her work.
Jane Roberts is unconventional and somewhat inconsiderate.
She is empathetic, she feels what others feel and is compassionate towards them. She is laid-back as well: she appreciates a relaxed pace in life. But, Jane Roberts is also intermittent: she has a hard time sticking with difficult tasks for a long period of time.
More than most people, his choices are driven by a desire for self-expression.
She is also relatively unconcerned with tradition: she cares more about making her own path than following what others have done. Considers helping others to guide a large part of what she does: she thinks it is important to take care of the people around her.
---
Writing style analyzed by IBM Watson
---
Jane Roberts book subjects