Ella Wheeler Wilcox
Ella Wheeler Wilcox (November 5, 1850 - October 30, 1919) was an American author and poet. Her best-known work was Poems of Passion. Her most enduring work was "Solitude", which contains the lines, "Laugh, and the world laughs with you; weep, and you weep alone". Her autobiography, The Worlds and I, was published in 1918, a year before her death. Ella Wheeler was born in 1850 on a farm in Johnstown, Wisconsin, east of Janesville, the youngest of four children. The family soon moved north of...See more
Ella Wheeler Wilcox (November 5, 1850 - October 30, 1919) was an American author and poet. Her best-known work was Poems of Passion. Her most enduring work was "Solitude", which contains the lines, "Laugh, and the world laughs with you; weep, and you weep alone". Her autobiography, The Worlds and I, was published in 1918, a year before her death. Ella Wheeler was born in 1850 on a farm in Johnstown, Wisconsin, east of Janesville, the youngest of four children. The family soon moved north of Madison. She started writing poetry at a very early age, and was well known as a poet in her own state by the time she graduated from high school. In 1884, she married Robert Wilcox of Meriden, Connecticut, where the couple lived before moving to New York City and then to Granite Bay in the Short Beach section of Branford, Connecticut. Her works, filled with positive thinking, were popular in the New Thought Movement and by 1915 her booklet, What I Know About New Thought had a distribution of 50,000 copies, according to its publisher, Elizabeth Towne. See less
Personality Profile For Ella Wheeler Wilcox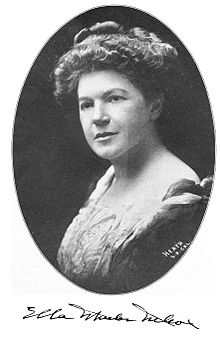 The following is a personality profile of Ella Wheeler Wilcox based on her work.
Ella Wheeler Wilcox is unconventional, boisterous and opinionated.
She is calm under pressure, she handles unexpected events calmly and effectively. She is unstructured as well: she does not make a lot of time for organization in her daily life. But, Ella Wheeler Wilcox is also imaginative: she has a wild imagination.
More than most people, her choices are driven by a desire for sophistication.
Considers independence to guide a large part of what she does: she likes to set her own goals to decide how to best achieve them. She is also relatively unconcerned with tradition: she cares more about making her own path than following what others have done.
---
Writing style analyzed by IBM Watson
---
Ella Wheeler Wilcox book subjects