Show Item Details

Edition:
2007, Globe Pequot Press
Paperback, Very Good

Details:
ISBN: 076274426X
ISBN-13: 9780762744268
Pages: 228
Edition: 7th edition
Publisher: Globe Pequot Press
Published: 2007
Alibris ID: 10017382629

Shipping Options:
Standard Shipping: $3.99
Trackable Expedited: $7.99
Two Day Air: $14.99

Choose your shipping method in Checkout. Costs may vary based on destination.

Seller's Description:
Octavo, softcover, 7th edition, near fine. Off the Beaten Path Series. Tired of the same old tourist traps? Take the road less traveled and discover the hidden attractions, unique finds, and unusual locales other guidebooks just don't offer. Features the things you'd want to see if only you knew about them! From the best in local dining to quirky cultural tidbits--Discover a different side of the northern portion of the Golden State. Follow the bloodstained trail of Sam Spade and other characters from The Maltese Falcon in San Francisco; overnight at a bed-and-breakfast located inside a working lighthouse on East Brother Island; or eat at a restaurant in Castroville that specializes in artichokes cooked two dozen different ways. So if you've been there, done that one too many times, get off the main road and venture "Off the Beaten Path." 228 pages.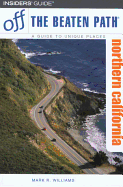 2007, Globe Pequot Press, Old Saybrook
ISBN-13: 9780762744268
7th edition
Paperback