Show Item Details

Edition:
2010, Porterhouse Fine Art Editions
Hardcover, Fine/Like New

Details:
ISBN: 1931955093
ISBN-13: 9781931955096
Pages: 128
Edition: Ltd edition
Publisher: Porterhouse Fine Art Editions
Published: 2010
Language: English
Alibris ID: 16290192233

Shipping Options:
Standard Shipping: $3.99

Choose your shipping method in Checkout. Costs may vary based on destination.

Seller's Description:
Used-Like New. The book included in this boxed edition includes over 130 color images of paintings, drawings, studies and sculptural works as well as a wealth of Mark's inspirational reference materials. Each copy of this special edition is signed and numbered (this being 273/500) and comes in a handmade clamshell box covered with a fine Japanese silk. The edition is also packed with an array of 'Vintage Souvenirs' including a miniature postcard set, commemorative pin, pennant, bookmark and pencil.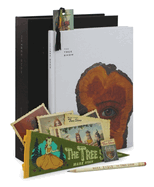 2010, Porterhouse Fine Art Editions
ISBN-13: 9781931955096
Ltd edition
Hardcover