2011, CENGAGE Learning Custom Publishing

ISBN-13: 9781111312565

See Item Details ▾

Goring-By-Sea, WEST SUSSEX, UNITED KINGDOM

Show Item Details

Edition:
2011, CENGAGE Learning Custom Publishing

Details:
ISBN: 1111312567
ISBN-13: 9781111312565
Pages: 688
Edition: International Edition
Publisher: CENGAGE Learning Custom Publishing
Published: 2011
Alibris ID: 16381249568

Shipping Options:
Standard Shipping: $3.99

Choose your shipping method in Checkout. Costs may vary based on destination.

Seller's Description:
Very Good. Intended for college/higher education audience. Provides students with both the knowledge and hands-on skills necessary to work with network operating systems in a network administration environment. By focusing on troubleshooting and not on an exam, this book offers a comprehensive introduction to Networking and to advances in software, wireless and network security.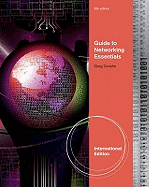 2011, CENGAGE Learning Custom Publishing, Mason, OH
ISBN-13: 9781111312565
International Edition
Unknown binding