Goring-By-Sea, WEST SUSSEX, UNITED KINGDOM

Show Item Details

Edition:
2005, Bailliere Tindall
Trade paperback, Good

Details:
ISBN: 0702026611
ISBN-13: 9780702026614
Pages: 296
Edition: 2nd Revised edition
Publisher: Bailliere Tindall
Published: 2005
Language: English
Alibris ID: 16382225456

Shipping Options:
Standard Shipping: $3.99

Choose your shipping method in Checkout. Costs may vary based on destination.

Seller's Description:
Good. Trade paperback (US). Glued binding. 296 p. Public Health and Health Promotion. Aims to identify the difficulties of working for health. This book focuses on the dilemmas and challenges which underpin health promotion-where is the evidence and how is health promotion practice informed by it. This edition emphasizes on examples from practitioners, and includes case studies, accompanied by commentaries from the authors.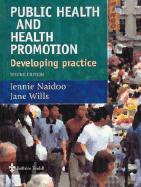 2005, Bailliere Tindall, Edinburgh, Scotland
ISBN-13: 9780702026614
2nd Revised edition
Trade paperback