Goring-By-Sea, WEST SUSSEX, UNITED KINGDOM

Show Item Details

Edition:
2015, Cambridge University Press
Trade paperback, Good

Details:
ISBN: 1108081223
ISBN-13: 9781108081221
Pages: 298
Publisher: Cambridge University Press
Published: 2015
Alibris ID: 16227569084

Shipping Options:
Standard Shipping: $3.99

Choose your shipping method in Checkout. Costs may vary based on destination.

Seller's Description:
Good. Trade paperback (US). 298 p. Cambridge Library Collection - Monographs of the Palaeontographical Society . 31 Plates, black and white; 57 Line drawings, unspecified. Intended for professional and scholarly audience. Begun in 1864 and wound up in 1883, this unfinished monograph contains descriptions and thirty plates illustrating many of the Devonian, Silurian and Ordovician trilobites known at that time. Salter's important 'preliminary classification of trilobites' was the best yet devised and a model that was subsequently much followed.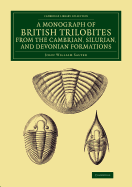 2015, Cambridge University Press, Cambridge
ISBN-13: 9781108081221
Trade paperback