Fitzroy Falls, NSW, AUSTRALIA

Show Item Details

Details:
ISBN: 161970840X
ISBN-13: 9781619708402
Pages: 776
Edition: Third Corrected edition
Publisher: German Bible Society
Published: 2016
Language: English
Alibris ID: 16865662710

Shipping Options:
Standard Shipping: $4.49

Choose your shipping method in Checkout. Costs may vary based on destination.

Seller's Description:
Fine. 776pp Dimensions 240 x 169mm Weight 1.111kg. Greek-English Lexicon of the Septuagint provides a thorough research tool for the study of the Septuagint. It presents the vocabulary of the revised edition of the Septuagint, offering English equivalents and discussing special cases in which the Septuagint differs from the Masoretic text.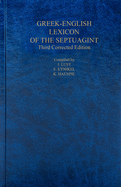 2016, German Bible Society, Stuttgart
ISBN-13: 9781619708402
Third Corrected edition
Hardcover