Show Item Details

Edition:
1986, Springer
Hardcover, New

Details:
ISBN: 3540159045
ISBN-13: 9783540159049
Pages: 99
Edition: 1986 edition
Publisher: Springer
Published: 1986
Language: English
Alibris ID: 10761447871

Shipping Options:
Standard Shipping: $3.99
Trackable Expedited: $7.99
Two Day Air: $14.99
One Day Air: $19.99

Choose your shipping method in Checkout. Costs may vary based on destination.

Seller's Description:
New. 99 p. Landolt-Bornstein: Numerical Data and Functional Relationships in Science and Technology - New Series / Condensed Matter. , Group III, v. 19. Biography. Intended for college/higher education audience. Intended for professional and scholarly audience.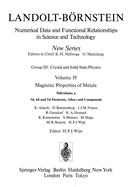 1986, Springer, Berlin, Heidelberg
ISBN-13: 9783540159049
1986 edition
Hardcover